Kids, scuba diving & safety
Scuba diving is fascinating, but how safe is for kids? According to PADI (the Professional Association of Dive Instructors), children can qualify as Junior Open Water Divers from the age of 12. Since your child has good psychology, is mature and ready to learn the secrets of the seabed, then they can start scuba diving.
Each child develops mentally and physically at different rates, making it difficult to define the right age, where the kids can safely dive into the water. Many diving clubs provide courses for children, offering new experiences and course in a fun way. The trainers pay attention to the child's maturity, obedience, skills, as well as swimming comfort, while through training, will learn to love the sea and the water and swim without fear.

T

he advantages

of scuba diving for kids
The younger people start scuba diving, the more comfortable they will be with it in the future. The little divers will gradually acquire an experience that will give them countless beautiful moments and knowledge. Children generally have a curiosity about the sea and its life. With the certification, they will be able to explore its most hidden spots. They are given the opportunity to study the laws that apply to buoyancy and gravity in real situations as well as mathematical problem-solving. Children will begin to understand the concepts of space and time and be kept in good physical and mental condition.
Parents who love diving will be able to take their children with them on a diving vacation, sharing their love for the underwater world. A family adventure aiming in discovering, while you create unique memories. In addition, children acquire a great ecological awareness that encourages them to take care of the natural environment. Managing diving risks helps them deal with situations calmly and carefully. Children become dynamic and self-confident while learning the importance of personal responsibility.
Useful questions to

find out

if your child is ready
Ask your child if they want to do scuba diving.

 

It is important to know what it is and what is the equipment.

Check if your child has a medical health problem or asthma?

 

If you are not sure, take the necessary medical examinations and ask for specialist advice to find out if your kids are allowed to dive.

How well does your child know how to swim?

Is it comfortable in the water or anxious?

A test in swimming would help.

Is your child obedient?

Does he have enough attention to listen to the trainers' advice?

Can your child understand, remember and apply multiple rules and important safety principles?

Is it shy? It is important to inform their instructors about anything that concerns them, discomfort or not understand something.

How does your child react to a problem?

Follow the rules and asks for help or act impulsively?
If your child wants to do scuba diving
1#

It will show interest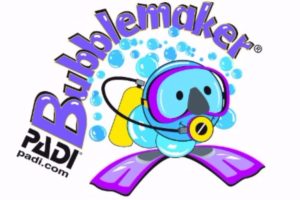 A child interested in learning scuba diving, will not need pressure to dive. Usually, they will work on their own, learning and reading about the diving equipment, new skills, and without being forced by anyone. Today's children are very eager to learn vital matters to understand the dangers of scuba diving.
2#

Completion of courses
If the kid is delighted with the idea of diving, then you have to find plenty of time to attend to classes in a PADI centre with kids departments and experience the ultimate Bubblemaker course for kids. Get ready to go for a family diving vacation and accompany the child on the first meeting with the seabed. For best results, children should finish the program with no rush and give them enough time to process the theory in their minds. A class with a swimming pool would be ideal for them.
3#

Discipline and trust
Τell your child that he/she should trust and inform immediately the instructors, in case of any discomfort or has any questions about diving. Also, about how important it is for his life to listen carefully to all theιr advice because the safety and discipline always go together.
At the ScubAndros diving centre, we offer any kind of departments and specialized trainers for children, teens and adults. We provide Scuba Diving courses and tours and all the necessary equipment you need to buy or rent. Our diving centre is located on the premises of hotel Perrakis on the beautiful beach of Kypri in Andros.
Contact us, to plan a unique exploration trip together with your holidays. Stay at Perrakis Hotel, and you will have a 10% discount on all ScubAndros benefits and our PADI programs. You can also rent all the snorkelling equipment for only 10 € / day.
BOOK NOW